Sunday, May 22, 2022
Temperatures are currently in the upper fifties under a mix of clouds and sun in Steamboat Springs this Sunday mid-afternoon. While we look to remain dry for the rest of today, two more weather disturbances for tonight and Tuesday morning will keep the cool weather and chances for light precipitation around to start the work week. But the unsettled weather looks to clear by Wednesday as temperatures reach the sixties under mostly sunny skies with seventies forecast to close out the work week.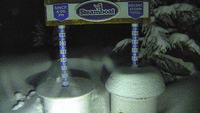 The past wintry storm produced between six and seven tenths of an inch of liquid water over our area, with about six inches of snow falling on my deck by 7 am last Friday morning and another 3" by noon. About a foot of snow fell at mid-mountain and above, with snow at all elevations showing considerable settling during the day. Winds turned to be from the northwest during Friday to the east-northeast overnight, and the time-lapse movie of the Steamboat Powdercam at the top of Sunshine Peak shows impressive snow dune formation and propagation between 9:40 pm Friday night and 4 am Saturday morning, as sustained winds of 15-25 mph and gusts to 30 mph transported the freshly fallen snow.
Currently, clouds are increasing ahead of a disturbance crossing the Great Basin. While we will likely stay dry through this evening, showers should begin ahead of the cold front at the higher elevations around midnight with snowflakes possible down to the Yampa Valley floor when the cold front passes early Monday morning.
Though showers will decrease after the front, they may reappear in the afternoon in the favorable cool, moist and unstable northwest flow. But high temperatures will only reach the low-fifties, which is almost fifteen degrees below our average of 66 F, which may limit the strength and duration of any showers.
The second cool front from a storm currently in the Pacific Northwest will pass through early Tuesday with initially little shower potential. But with temperatures eventually rising about five degrees above Monday, there may be enough surface heating for some afternoon showers.
This stretch of unsettled weather breaks by Wednesday as a ridge of high pressure moves over the West. Look for lots of sun and temperatures reaching the sixties, with seventies expected on Thursday. Early indications are that the nice weather will stick around to close the work week as we head into the long Memorial Day weekend, though unsettled weather may return for part of the weekend. So check back Thursday afternoon for my next regularly scheduled weather narrative when I'll have more details about the weather for the holiday weekend that unofficially marks the start of summer.