Thursday, May 21, 2015
The forecast is sounding like a broken record (remember those?!), but the rain looks to continue as four more waves move over our area through mid-next week. For water managers out there that believe the snowpack does not accumulate moisture after May 1,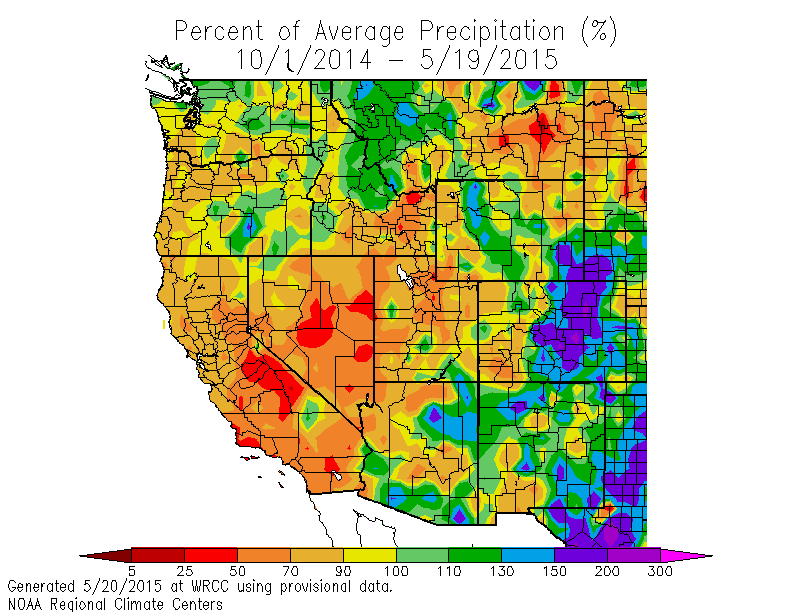 note that the Snotel remote measuring site near the top of Buffalo Pass called Tower registered a local low in snow depth on May 8 of 69" with about 28" of liquid water. In twelve days, the snowpack increased about 8", but remarkably the liquid water content increased by 3.5"! The end result is that the below average water year for Routt county that began on October 1 is now above average over most of the county. The southern part of the county is between 10 and 30% above average, while a small area in the extreme northeast is still lagging at between 10 and 30% below average, with the rest of the county as much as 10% over average!
In the short term, rain starts up again early this afternoon as the morning heating interacts with substantial low-level moisture and produces another round of scattered rain showers. However, unlike the previous 2 nights, rain should increase tonight and become moderate to heavy as the first wave from the southwest ejects over our area this evening.
There is a small amount of drying advertised by some models early in the day tomorrow, but again any heating will act on a very moist airmass to produce another round of afternoon rainstorms.
Some more drying is forecast early Saturday as a strong storm that ejected the Thursday night wave approaches the area, but again we will be susceptible to scattered afternoon rainstorms. As the storm moves over the area early Sunday, some cool air from the Canadian plains related to a wave to our north and east will be mixed into the storm, lowering snow levels to around 9000′ and again leading to a wet day.
Skies will briefly clear by Monday morning before the fourth wave, forecast to be located over the Four Corners region by Monday afternoon, again increases rainfall later in the day and overnight.
The parade of relatively organized storms will be briefly interrupted midweek, but clear mornings should give way to the typical afternoon thunderstorms as the strong May sun interacts with a very moist atmosphere.
Additional Pacific energy enters the West Coast later in the week, though forecasts are uncertain as to the amount of mixing between the southern stream over central California and the northern stream over the Pacific Northwest. Nonetheless, it looks likely the unsettled weather will continue into next weekend, with the pattern likely continuing into at least the first week of June as additional Pacific energy is forecast to crash into the West Coast.