Friday, December 19, 2014
The current unsettled weather pattern continues with periods of light snow ending by this afternoon. A transient ridge will move over the area Saturday, but will be quickly followed by storminess starting Sunday and lasting through Tuesday.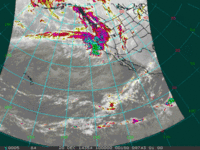 Currently, what meteorologists are now calling an atmospheric river is inundating the Pacific Northwest, as shown in the infra-red satellite animation to the right. This is simply a relatively narrow and long fetch of concentrated moisture in the atmosphere. The Pineapple Express, for example, is the well-known moniker given to an atmospheric river originating around Hawaii.
The current atmospheric river with roots in the northern Pacific will move towards our area and begin producing precipitation around Saturday night. Even though we will be in strong and moist northwest flow, current model trends have the atmosphere warming during the day Sunday with very windy conditions, which throws a wrench into the previously very bullish forecast. My experience is that our forecast becomes far more uncertain, and generally leans pessimistic under a warming atmosphere. Our most recent experience with a similar scenario lead to our freezing rain event; we started out with moderate to heavy snowfall as temperatures rose in the morning, transitioning to freezing rain as the warming and upward motion associated with that warming ceased. I am not suggesting that we will see another freezing rain event as I'm STILL not sure what happened there, but wanted to highlight the uncertaintly present.
So, I am now very uncertain about snow amounts during the day. However, cooling does begin by later Sunday, and that increases confidence that heavy snows increase. Winds will stay very strong through the day Monday, continuing the moderate to heavy snowfall until the intensity drops off near the end of the day. Lighter snowfall, however, will continue overnight.
Snowfall from Sunday through Monday will likely be heavy, with what happens during the day Sunday being a bit of a wildcard. Travel will also be very difficult during this time period. At this point, I would guess maybe an inch or two by the Sunday morning report, with 5-10" reported Monday morning. Cooling increases later Monday, decreasing the density of the snow and increasing accumulations, possibly leading to another 4-8" by Tuesday morning.
Wednesday will be chilly with the 1-4" reported in the morning occurring during the day Tuesday. Models have trended significantly stronger with the ridging behind this storm, leading to warming conditions and weakening the storm earlier advertised for Christmas Day. The storm still looks to be significant though with snow increasing during the day Thursday and lasting through Friday morning, leaving another 6-12" by the morning report.