Monday, November 24, 2014
The forecast from last Tuesday was so good I did not need to update it! It appears that the Steamboat Ski Area started posting mid-mountain 24 hour snow totals on their website, though I am assuming (because Steamboat STILL insists on NOT including a datestamp on their observations - feel free to email them and let them know their numbers are near useless if we don't know the time period they represent!) 8" was reported yesterday morning and 9" was reported this morning.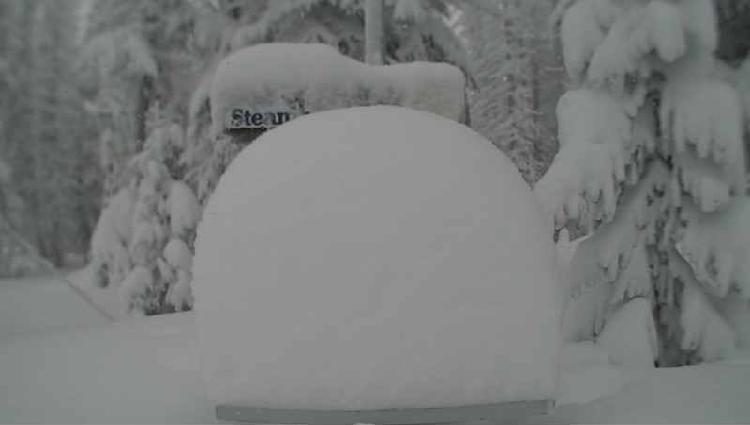 As you can tell from the Powdercam picture taken around 9 am this morning, there is over 2 feet of settled storm snow up top from Saturday afternoon when the current storm cycle started.
More snow will accumulate through the daylight hours today, with an enhancement increasing snowfall rates early this afternoon. Probably 5-10" of snow will be reported by tomorrow morning, though most of that has already fallen.
Snow will taper off after sunset tonight, though it may not completely stop. The last wave in this storm cycle will bring some slight warming and windy conditions starting tomorrow afternoon and lasting through midday Wednesday. Snow will increase during the day tomorrow and become moderate to heavy overnight before tapering off by Wednesday around noon, but I would expect another 5-10" for the Wednesday morning report, with another 1-4" of new snow falling by noon.
Conditions will rapidly improve later Wednesday with significant warming by Thanksgiving Day, as the forecast made by the American GFS last week verifies over the European ECMWF forecast from then. Beautiful and mostly sunny weather should persist into the weekend before a weak wave in northwest flow grazes our area on Saturday. At this point, some cooler air and clouds look to be the only impact.
Temperatures warm again heading into early next week before another strong storm is forecast to affect our area sometime around Tuesday.