Sunday, October 4, 2015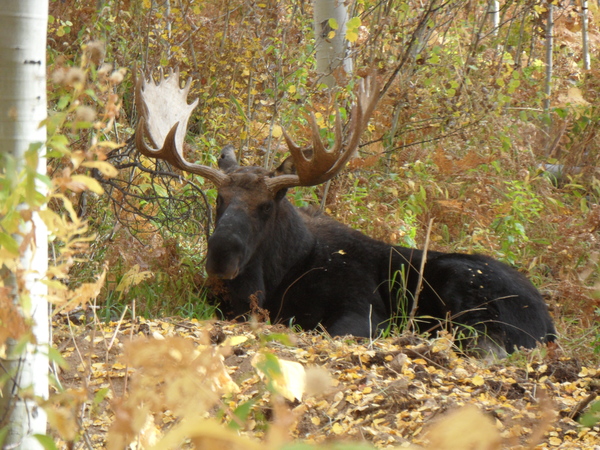 Came across a family of moose over on Pioneer Ridge this past Thursday blocking the trail. After carefully bushwacking around the apparently content moose, I was able to get some photos of two of the three. After riding to Rainbow Saddle and as I was descending Rustler's Ridge, I scared up ANOTHER family of three moose resting on the trail. These were far more agitated at being disturbed, and the twitching ears and snorting precluded any picture taking as we again bushwacked around the family. Lots of animals on the trails getting ready for winter, so be careful out there!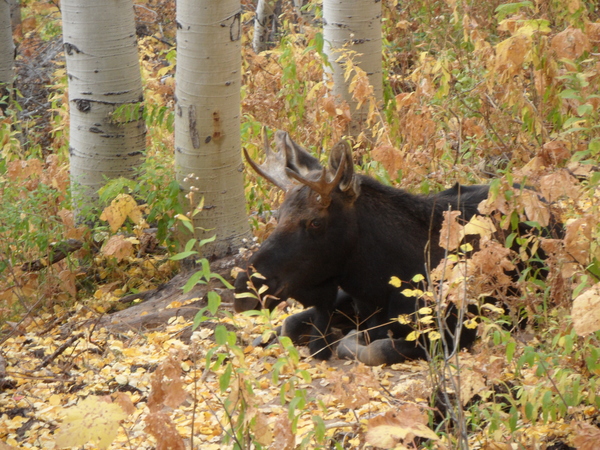 Thursday, October 1, 2015
The above average temperatures of this early fall will continue through most of tomorrow before a storm currently off the California coast brings cooler temperatures and showers into the Steamboat Springs area later Friday.
This storm will be forced eastward from the coast as a second splitting storm currently in the western Canadian high latitudes takes its place along the West Coast by Saturday night. The first storm will bring a noticeably cooler airmass by Friday night, with showers developing ahead of and along the front by Friday afternoon or evening.
Saturday should start off dry and cool before there is a chance of light showers redeveloping in the afternoon and evening. The second storm will then develop into a closed low cutoff from the jet stream to our north around Sunday, backing our winds to the southwest and initially bringing some drying into the area for Sunday and Monday.
This second storm is forecast to move eastward or southeastward across the southern Great Basin on Monday, and will bring increasing moisture from the south over Colorado, similar to the active monsoonal pattern we saw for a lot of this summer. There may be a small chance of showers on Monday afternoon, but the heaviest rainfall is reserved if the storm moves over our area from later Tuesday through Thursday.
Models are struggling with the timing and position of the storm. A fair bit of uncertainty exists with how far south the storm eventually moves, with the latest European ECMWF favoring a more southern, slower and drier solution. If the storm takes a more northern track like the American GFS, showers may continue through Thursday and perhaps even Friday as the storm moves east of the area, leaving the classic-for-Steamboat cool, moist and unstable northwest flow.
Some ridging is forecast to occur behind the storm, bringing improving conditions for the following weekend.